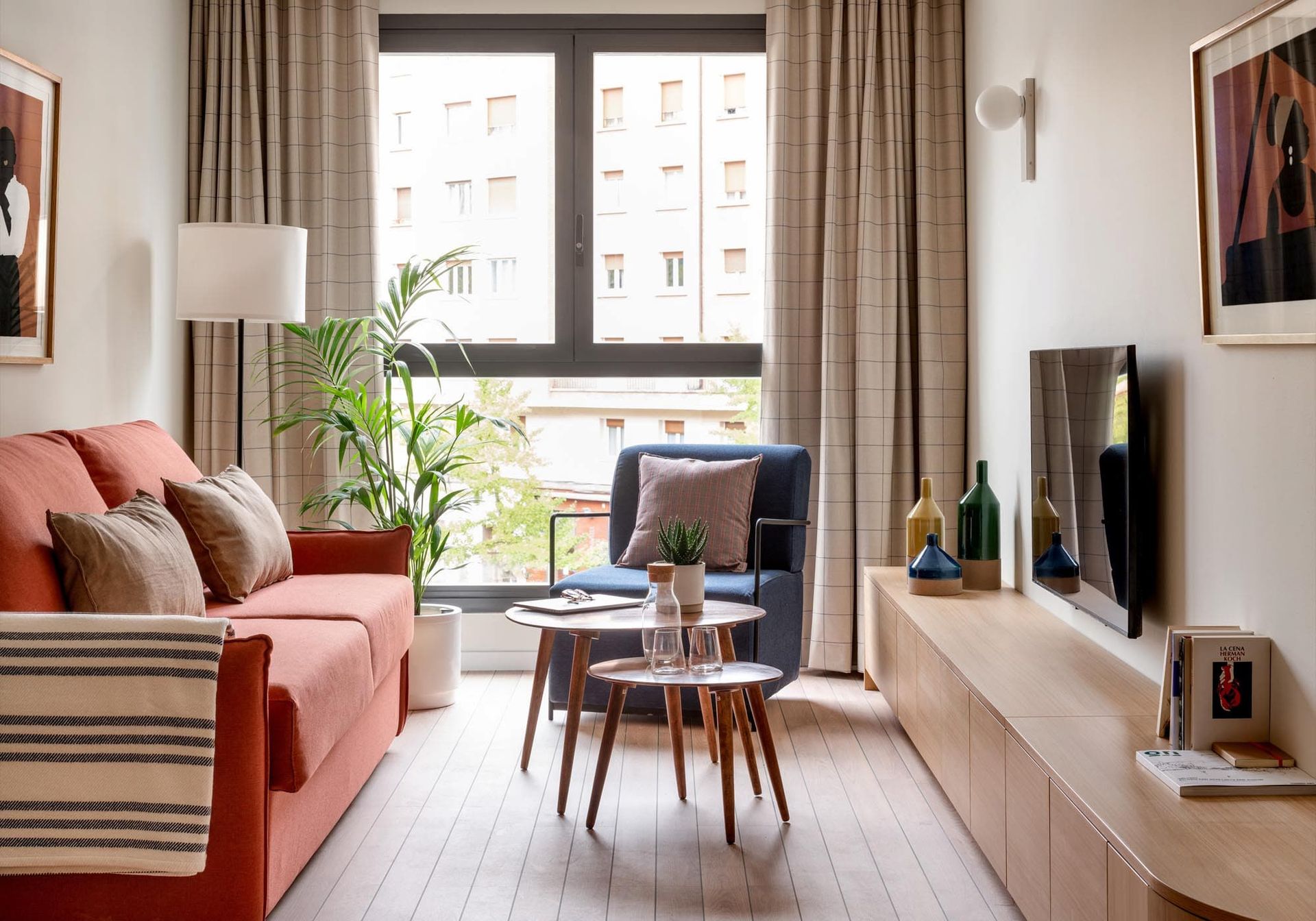 Líbere Vitoria Aparthotel
Relax and enjoy all the comforts in the heart of the Basque Country
Get the best price on the web
The Líbere Vitoria Apart-Hotel is a haven of comfort in the heart of the beautiful city of Vitoria-Gasteiz. Its spacious and elegant apartments offer guests a home away from home with all modern amenities. Whether you're traveling for business or pleasure, this apart-hotel is the perfect choice. Enjoy the fully equipped kitchen to prepare your own meals or sample local cuisine at nearby restaurants. Additionally, its central location allows you to easily explore the charms of Vitoria, from its old town to parks and museums. Líbere Vitoria is your sanctuary in this Basque city.
Líbere Vitoria
Choose your space in Vitoria
Flexible cancellation available
We have flexible rates in all our accommodations
Stay longer
Up to -40% discount for longer stays.
Líbere Vitoria
The experience at Líbere Vitoria, told by our inhabitants
Do you want to see what it feels like? Stay at Líbere Vitoria and find out!
"It is in a good area, I loved that everything is by mobile (key and entry code), it is also very well equipped. Price quality. Recommendable!"
"A perfect place to stay in Vitoria, very central, well equipped, clean and spacious, with an affordable price and many places nearby to park, eat or shop. Thank you"
"Excellent apartment. Absolutely recommended for families with two children. Very safe, clean, spacious, quiet and comfortable. Perfect for the price"
"The apartment is cute and super cozy, with everything you need to feel at home. The location can't be beat."
Exceptional location
Avenida Gasteiz, 45

01008 Vitoria (Álava) España
From the airport

Take the highway National 624 in the direction of Foronda. Then take exit 101 to the highway National 622 towards Vitoria-Gasteiz until you reach your destination.

By car

Avenida Gasteiz connects to the highways National 622 and National 102.

By bus

At Avenida Gasteiz you can catch bus lines bus lines L1 and L8 (day) and G1, G4 (night).

By taxi

Taxi Radio Vitoria (Tel. +34 945 273 500)

By tram

The Líbere aparthotel is 150 m away from the tram. Two stops take you here. The Sancho el Sabio stop on the T1 and T2 lines and the Louvain stop on the T1, T2, TG1 and TG2 lines.

By train

You can take the train from Madrid, Barcelona, San Sebastian and Pamplona.
Líbere Vitoria
Amenities at Líbere Vitoria
We have what you need for a high quality stay. A new way of understanding space, with no restrictions or limits for yout to enjoy the best experience.
Líbere amenities
Your phone is your key
24/7 online reception
Wi-Fi
Express check in

Dogs allowed

Bed linen and towels

Air conditioning
Located 400 meters from the Palacio de Congresos de Europa.
Neighbourhood with bars and restaurants
Easy access from the highway
Private parking
Early check in, late check out 1
Fully equipped private kitchen
TV
Access for those with reduced mobility
1 According to availability
Líbere Vitoria
An experience tailored to your needs
At Líbere Vitoria we have what you need for a high quality stay: special rates that are tailored to you so you can enjoy the best experience. From a mid-stay rates to special rates for groups, agencies and companies. Choose the one that best suits you!
Líbere Vitoria
Frequently asked questions about Líbere Vitoria Aparthotel
Is the Líbere aparthotel near Vitoria city centre?

Yes, it's 7 minutes from the Mary Immaculate Cathedral (Catedral de María Inmaculada) and 11 minutes from the park La Florida and Plaza de España.

If I'm travelling on business, does the apartment include a work area?

One and two bedroom apartments. We can arrange an office so you can work comfortable from your apartment.

Does the Líbere Vitoria aparthotel have a parking?

Yes. The building has private parking at an additional cost. You can select this service during your booking process or once the booking is confirmed.

How often are the apartments cleaned?

The apartments are cleaned once a week. Líbere will change the
bedding and will offer towels at the arrival and at each cleaning.
Líbere Vitoria
Travel guide to discover Vitoria
Discover Vitoria and its surroundings with our travel guide. Tourism, gastronomy, leisure, shows... All you need to enjoy the stay in the city.
See travel guide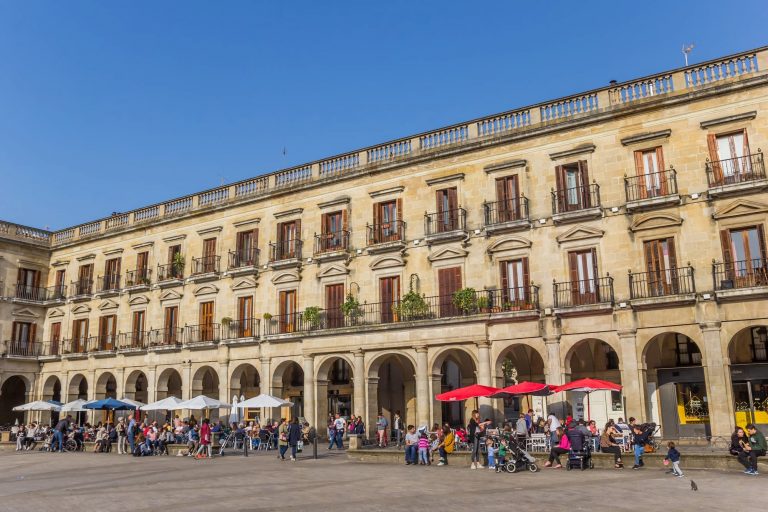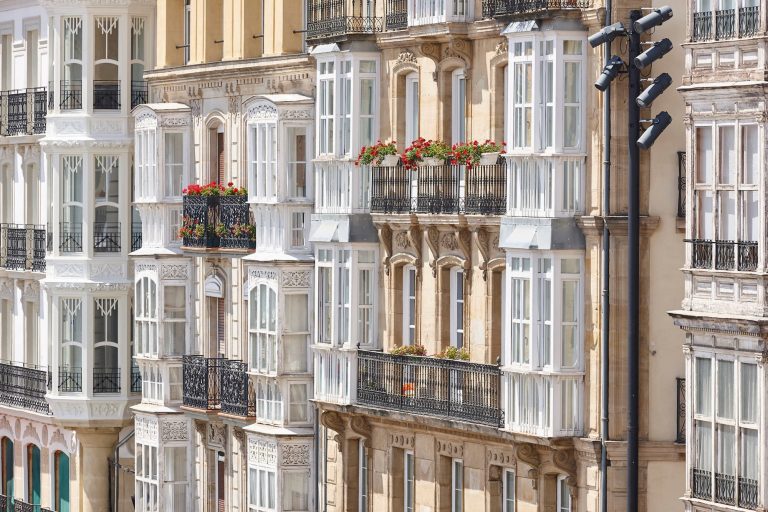 Tourist registration no. HVI00415