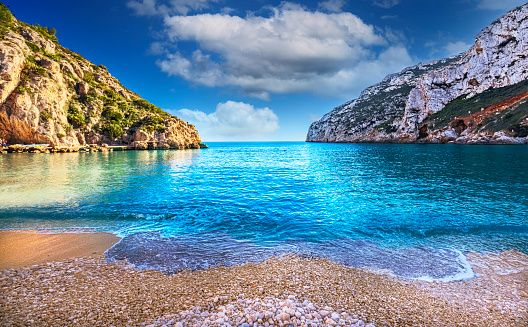 Beautiful coves in the Valencian Community
Sometimes getting a little away from the center of the city of Valencia and its beaches and approaching to discover other corners an hour away where some of the most beautiful coves of the Mediterranean should be mandatory if you are in the Valencian Community. Discover the wonderful coves of beautiful towns such as Javea, Cullera or Calpe.
 Coves of Jávea
Jávea, known in Valencian as Xàbia is one of the most attractive towns in the east of Alicante. Located in the well-known region of the Marina Alta, north of the province of Alicante, this town is 112 kilometers from the center of Valencia, which can be translated into a journey time of 1 hour and 18 minutes if we travel by car. Javea is one of the towns of the Valencian Community that receives more visits during the summer season due to its spectacular geographical location overlooking the sea and the mountains and its more than 20 kilometers of coastline that undoubtedly offers some of the best enclaves that can be found in the Mediterranean. Do not miss these four spectacular coves of Javea if you visit the town.
Cala Moraig
Flanked by cliffs and turquoise waters, this cove is located in Poble Nou de Benitatxell, a town located between Moraira and Javea. Cala de Moraig is composed of gravel and sand and has an extension of 300 meters. Swimming in its crystal clear waters will allow you to appreciate its wonderful seabed with posidonia meadows and ancient rocks, without forgetting the Cueva dels Arcs, a spectacular grotto emblematic icon of the Valencian coast from where watching the sunrise through its large arches is impressive.
To access you must take into account that in 2020 the passage to cars was limited. Since then you can only go down to the cove of Moraig on foot or using the free bus that operates only in the summer months. The walking route will take you 15 minutes and if you decide to take the bus, we remind you that it runs every 15-20 minutes from July 3.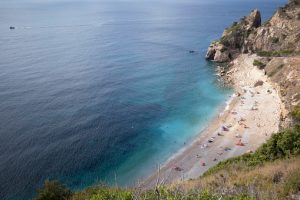 Platja de la Granadella
Possibly one of the most charming beaches of the Costa Blanca in Alicante. As with the Cala de Moraig, in Platja de la Granadella we find a place of cliffs and crystal clear waters, a fairly characteristic seal of the Alicante coastline. This cove of pebbles is located in the Granadella Forest Park, at a distance of 10 kilometers south of Javea. Cala Granadella has an extension of 160 meters and has had a blue flag since 1989. It has lifeguard service in the summer months and is a great place for water sports such as snorkeling or scuba diving.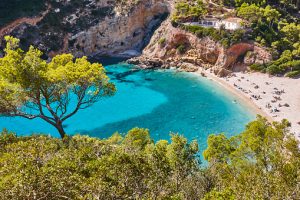 Access and parking near the cove is relatively easy. You can get there from Jávea using the Granadella secondary road. On the beach you will find a couple of parking lots. Visiting this cove in summer is not the best option as it tends to be crowded, especially on weekends if the weather is good. However, if you want to go, we recommend you to get up early to make sure you have a parking space and your place in this beautiful cove.
 Cala Blanca Jávea
This spot popularly known as La Caleta is located at the end of the Segon Muntanyar beach in Jávea and consists of two adjoining coves connected to each other by a stone coastline. Cala Blanca Jávea is a semi-urban cove of gravel and rock. It is one of the favorite corners of the neighbors of Jávea since its occupancy level is usually medium thanks to the small size of both coves: one has 80 meters long and the other does not reach 40 meters. An ideal place to spend the day and a favorite of all those who enjoy sailing with their boats. Cala Blanca has a parking service at a distance of 100 meters. There you can park your car and then you will have to walk along the promenade of just 100 meters to the cove.
Cala Portitxol
Cala de Portitxol also called La Barraca cove is another of the best coves of Javea and the most photographed and shared on social networks. Formed by gravel, pebbles and rock, this rustic beach of approximately 900 meters long is protected by cliffs. There are small private fishermen's houses that make your visit even more special. Another of the characteristics of this place is that opposite is located the island of Portitxol declared of Cultural Interest for its great importance at botanical and archaeological level.
Portitxol cove is located between Cap Prim and Cap Negre. It is possible to get there by car driving along the road towards Cabo la Nao. Along the way you will find different indications on how to get to the cove. As for parking, you have to take into account that there is an access barrier to the cove with surveillance service. The guards will allow you to access if there is availability of parking spaces, so it is advisable to go early if you do not want to be left out.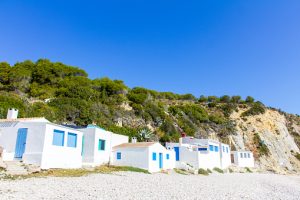 Coves near Cullera
The coastal town of Cullera is located in the Ribera Baixa, at a distance of 41 kilometers from our apartments in Valencia Libere. A city that has an interesting cultural heritage as its famous castle of Cullera, the Tower of Santa Ana or the Sanctuary of the Virgen del Castillo, as well as a wonderful coastal area with an approximate length of 15 kilometers where we can find the following coves:
 Cala Rocosa Cullera
Cala Rocosa is one of those places worth visiting, even once. Surrounded by a gorge that ends in the sea, this is the only rocky cove you'll find within 40 kilometers around. It has great marine life for diving and snorkeling. Access to the water is relatively easy and it does not cover much, but you will need booties.
To access Cala Rocosa you will have to walk either the path of the cliffs of the lighthouse or you can also get there through the path with a small slope that you will find near the apartments 'Cala Rocosa'.
Cap Blanc beach
Just 5 minutes from Cala Rososa, Cap Blanc Cullera is a semi-urban beach that has 630 meters long and 65 meters wide. During the summer season it usually has a high level of occupation as it has all the necessary services a few meters away such as cafes, stores … In addition, if you love windsurfing, be sure to visit the beach of Cap Blanc. Its wind regime makes it a magnificent meeting point for all lovers and fans of this sport. It should be noted that this is not a sandy beach but large round stones.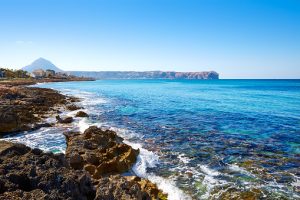 Best coves of Calpe
The town of Calpe is located in the center of the Costa Blanca, 122 kilometers away from Valencia center. A great place to enjoy the sun during the summer and also throughout the year thanks to its pleasant temperatures. Along its 12 kilometers of coastline we find different beaches and coves of unparalleled scenic beauty. We show you two of the most beautiful coves of Calpe:
Cala del Mallorquí
A small and beautiful rocky and unspoiled cove that goes unnoticed for people who go through the known as Benissa Ecological Walk precisely in search of coves and cliffs. In it you will find numerous formations that will facilitate the bath to the smallest. A perfect cove to dive, take a dip and sunbathe away from the crowds of the big beaches.
This cove is located between the bay of les Bassetes and Calalga cove. Currently the cove is closed and fenced so the only way to access is by boat, kayak or swimming. As for parking, it is practically impossible to park the car near the cove as it is located in the vicinity of an urbanization and there are fords. To avoid scares, it is best to park in Bassetes and go for a walk to Cala del Mallorquí.
 Cala les Bassetes
Overlooking the spectacular rock of Ifach, Cala les Bassetes is located in the bay that bears the same name. Located south of the coast of Calpe this cove is almost at the entrance to the town. Here you can enjoy quiet baths in its crystal clear waters and the tour of the Ecological Walk of Benissa that we mentioned before.