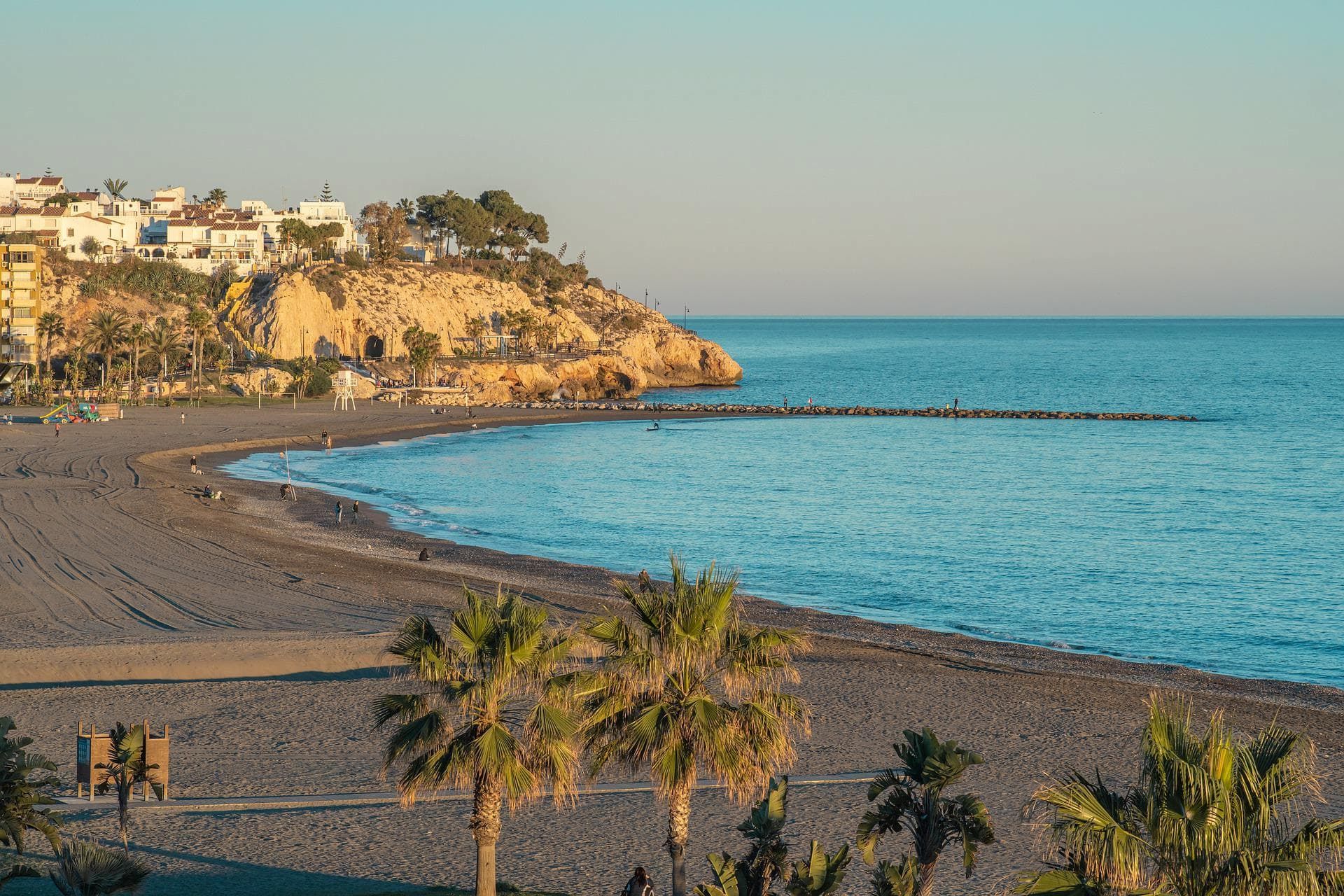 8 beautiful beaches in Malaga
Relax, sun, nice places to eat, beach… Summer is coming! And with it our desire to enjoy the sun accompanied by family and friends. There are many destinations in Spain where to spend the summer, but we can't think of any as complete as Malaga. In addition to visiting the most emblematic monuments of the city such as the Alcazaba or the Cathedral, you can also discover its many hidden and unknown corners that will make you fall in love even more with this Andalusian city. The capital of the Costa del Sol offers a thousand and one reasons to choose it as a vacation destination. Its wide gastronomic and cultural offer added to the beautiful beaches of the coast of Malaga make it an attractive destination.
Do not miss the opportunity to discover this summer the most beautiful beaches of Malaga. In our selection you will find a list of 8 beautiful beaches Malaga for all tastes: fine sand, beaches located within the city for those who want to avoid trips and enjoy a snack a few meters away from the towel, and of course, beautiful coves where you can breathe peace and tranquility. In addition, in them you will find a wide selection of services with which you will not miss anything.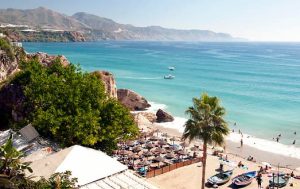 Fine sand beaches in Málaga
Los Álamos beach
Located in the municipality of Torremolinos and a distance of 13 kilometers from the downtown district of Malaga, Playa de los Alamos also known as Playa del Cañuelo is one of the longest beaches and with more atmosphere of the Costa del Sol. One of the characteristics of this beautiful beach in Malaga is the golden color and the fine texture of its sand, which make it an attraction for locals and tourists. Los Alamos beach also stands out for its young and festive character; there you will find numerous beach clubs located on the sand where you can enjoy good music throughout the day; restaurants and beach bars where you can taste local products and a wide range of water activities such as jet ski rental or hydro pedals.
How to get to los Álamos beach: by car you must take the Malaga ring road towards Cam. de la Cizaña/C. Tramo de Unión and drive to P.º Marítimo Torremolinos. You can also arrive by train taking the M-110 Flatotel line at the Muelle de Heredia terminal, you will have to get off at the La Colina stop and walk 15 minutes to get to Los Alamos beach.
Cabopino beach
Cabopino beach, also known as Artola dunes, is one of the best natural beaches on the Costa del Sol. Located in the municipality of Marbella, this wild beach with nudist area has 1. 200 meters long. Here you can enjoy dunes, fine sand and wonderful sunsets. One of the best beaches in Malaga perfect for families with children as the water barely covers half a meter. Dogs are also allowed on a leash. Nearby you will find several beach bars, as well as sun loungers on the beach itself. It also has showers and wooden paths to avoid burning your feet with the sand. All facilities.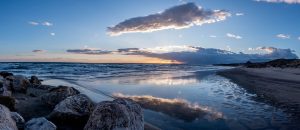 How to get to Cabopino beach: By car take the Malaga ring road/MA-20 from Paseo del Parque and Av. de Andalucia. You will have to follow the Malaga ring road AP-7 and A-7 towards C.Fresno in Marbella, take the exit towards Cabopino from A-7 and take the street Tramo de Union to Cabopino beach.
La Rada beach
With more than 2 kilometers long and a wide promenade in the town of Estepona, the beach of La Rada has fine sand of a characteristic grayish color and a calm swell ideal for cooling off. This beautiful beach in Malaga has all the services: toilets, clean points, first aid post, beach bars and a paid parking located under the promenade. Undoubtedly, one of the most beautiful urban beaches of Malaga.
How to get to Playa de la Rada beach: By car, take the Autovía de Circunvalación de Málaga/MA-20 from Paseo del Parque and Av. de Andalucía. Follow the AP-7 towards Av. Juan Carlos I and take exit 155 from AP-7. You will have to follow Av. Juan Carlos I and drive towards Av. España.
Playas en Málaga capital
Malagueta Beach
One of the best beaches in Malaga city, 10 minutes walk from the historic center of the city and close to many points of interest such as the Plaza de Toros, the park of Malaga or the promenade Pablo Ruiz Picasso where there are many beach bars ideal for a drink. The sand of this beach near Malaga capital is not the best but its location, services and amplitude make it one of the most visited beaches by residents and tourists.
How to get to Malagueta beach: you can get there walking in 20 minutes from the Líbere Málaga La Merced apartments through Jesús el Rico square and Reding promenade.
Pedregalejo Beach
Located just 4.5 kilometers from the center of Malaga, Pedregalejo beach is the oldest beach in the capital of the Costa del Sol. Located at an intermediate point between the Baños del Carmen and the beach of El Palo, this dark sand beach is 1.2 kilometers long, which makes it perfect for short walks. It also has several artificial inlets that create 6 beautiful coves with clean waters. An ideal beach for snorkeling. In its surroundings you can enjoy a wide range of beach bars, as well as taste one of the typical dishes of Malaga's gastronomy: grilled sardine skewers.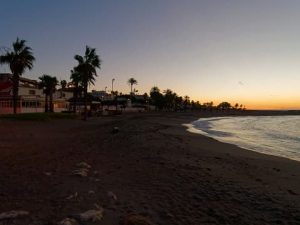 How to get to Pedregalejo beach: You can get there by car from the N-340 or from Av. del Pintor Joaquín Sorolla.
Los Baños del Carmen
From this beach located to the west of Pedregalejo beach, you can contemplate the most beautiful sunsets of the Costa del Sol. With an extension of 550 meters, this gravel beach owes its name to the old spa that existed there, now converted into one of the most visited restaurants in Malaga thanks to its incredible views of the Mediterranean Sea.
How to get to Baños del Carmen: By car, on the N-340 road or taking the Av. del Pintor Joaquín Sorolla.
Best coves in Málaga
Barranco de Maro Cove
Located in the Natural Park of the Maro Cliffs, Barranco de Maro is a rocky cove in Malaga, with crystal clear waters and perfect for snorkeling. To access it you will have to make a walk of medium intensity that lasts about 15 minutes. It should be noted that the environment where it is located is totally wild. Here you will not find hotels or buildings as it is usual in other beaches of the coast of Malaga. An ideal place to enjoy a relaxing day looking at the sea.
How to get to Barranco de Maro cove: By car, you have to take E-15/A-7, take exit 295 and follow the road to Almería/N-430.
Torre del Pino Cove
The Torre del Pino cove is another of the jewels that can be found in the Natural Park of the Cliffs of Maro. A beautiful and small cove of stones with a complicated access not suitable for everyone. It is advisable to bring slippers, booties and chairs, plus cooler and everything you consider necessary to spend the day at the beach as there are no services of any kind in this natural cove of Malaga.
How to get to Torre del Pino cove: by car, the fastest route to get to Torre del Pino cove is by the A-7.