8 typical star dishes of Malaga
One of the biggest attractions that Malaga has for tourists who visit every year is its gastronomy. If we put everything together: the climate, the friendliness and closeness of the local people, its beaches and the good atmosphere, we would only need to know the fabulous typical dishes that this city offers and surprises everyone who tries them. The capital of the Costa del Sol has a long list of typical food of the area that is possible to taste throughout the year, although there are preparations that fit more with certain seasons due to its summer or autumn character. Despite the endless list of traditional Malaga food that exists, we have chosen the 8 star dishes that you must try if you visit the city. Preparations for all tastes that will make you even more fascinated by this jewel of the Costa del Sol and of course, of Malaga's gastronomy.
The easiest way to find these dishes and try them is to walk through the streets of the city. There you will find many bars and restaurants with a traditional gastronomic offer. If you decide to travel to the birthplace of Pablo Picasso in summer, the star season of the Costa del Sol, we recommend that you stop at the beach bars that you will find near the beaches because tasting a traditional Malaga dish by the sea with good shade is priceless.
What are the 8 typical star dishes of Malaga? We tell you.
'Pescaíto' frito
Anchovies, red mullet, baby squid, dogfish… These are some of the fish used to prepare this star dish of Malaga's gastronomy. The detail that makes the difference in this fried food is the quality of the olive oil used, a key element in the Mediterranean diet that cannot be missing in all the elaborations of Malaga food. The better the oil, the better the fried 'pescaíto' will be. It is usually accompanied by lemon wedges that can be squeezed to taste. A meal without much mystery, but very characteristic and well known in Andalusia.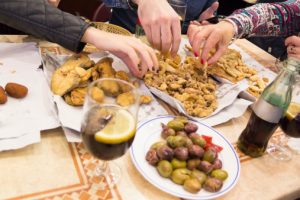 Espetos de sardinas
What would a summer in Malaga be without a good espeto de sardinas? It is hard for us to imagine it. If we said that the fried 'pescaíto' was a characteristic dish of Andalusia, we can say that the espetos in sardines are even better known, especially in the coastal areas. Everyone who travels to the Costa del Sol goes in search of them. Besides being a tasty food ideal for summer days or evenings, the way it is prepared is another of its charms: the sardines are grilled on a wood-fired boat. Is there anything more Mediterranean than that? Undoubtedly one of the most typical dishes of Malaga.
Pipirrana malagueña
Leaving fish dishes aside, we move on to a more refreshing and typically summery meal, the pipirrana malagueña. The ingredients it carries: chopped onion, cucumber, bell pepper and tomato; all seasoned with the point of salt you consider, olive oil and sherry vinegar. Super easy to find, so if you happen to try it and love it, you can write down the recipe to make it at home. This preparation can be accompanied with mollusks or crustaceans: mussels, clams, prawns, octopus… a very refreshing dish for the hottest days.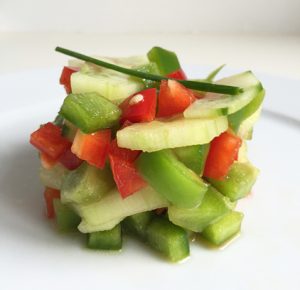 Ensaladilla Malagueña
Another of the most typical meals among the people of Malaga. The main characteristic of this salad is the ingredients it contains: potatoes, orange, cod and olives. A super fresh and flawless dish that you will surely enjoy. Finding it will be extremely easy since all the bars in the center of Malaga offer it in their menu.
Gazpacho malagueño
The gazpachuelo of Malaga was the typical soup eaten by the fishermen of the area. Made with potatoes and sea ingredients, this dish is characterized by the white color given by the mixture of fumet and mayonnaise. It can be served either hot or cold and accompanied by rice or croutons, but it is generally served with potatoes, hake, shrimp and peas.
Plato de los Montes Málaga
A very hearty dish typical of the inland areas of Malaga. It is popularly known as 'huevos a lo bestia' as the main base with eggs and potatoes to which are added a myriad of ingredients such as lomo con manteca, chorizo, black pudding, migas and everything our imagination can come up with. A bomb suitable for all those people who love heavy meals.
Ajoblanco of Málaga
If you like the mixture of ground almonds, bread, garlic and oil, then the ajoblanco de Málaga is your dish. This exquisite typical Malaga food should be served very cold. A great way to combat the hot summer days.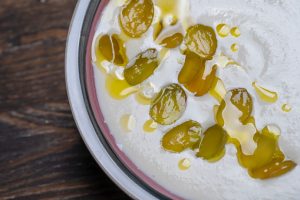 Porra antequerana
As its name suggests, this typical Malaga dish comes from the town of Antequera. It is usually accompanied with salmorejo cordobés. A little denser than the latter, it is usually seasoned with hard-boiled egg and Iberian ham.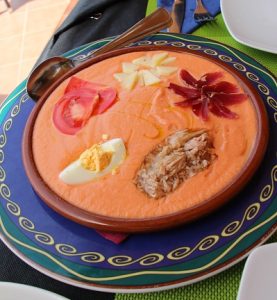 Andalusian gastronomy is very rich and varied. Malaga has a long list of simple and typical dishes full of flavor that encourage you to visit it and taste its dishes and tapas. An incredible city that offers unique cultural and gastronomic experiences. You should not miss it.