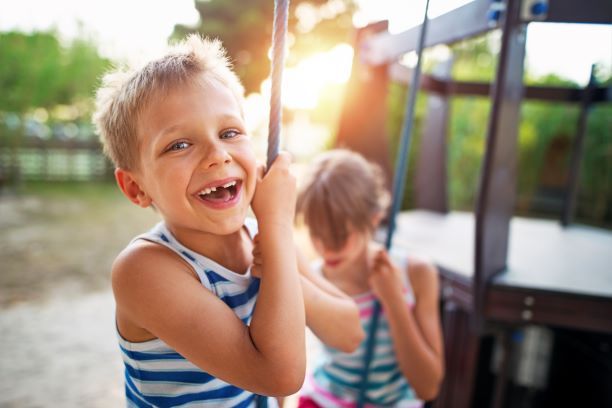 Getaway to Bilbao with children: tips for having a great time
Bilbao is an ideal destination for families because it offers countless alternatives for things to do with children. Without needing to go any further, the Guggenheim is one of the city's main attractions. It's not a typical museum to visit, because kids are always fascinated by its architecture and the incredible sculptures outside, such as the famous chandelier by Louise Bourgeois. Inside, children can enjoy Richard Serra's colossal labyrinth, where it will be a challenge to get them out, and not just because they've got lost.
And if you make your getaway to Bilbao in summer, very close to the museum, you'll discover parks with large playgrounds that include fun geyser-type water jets. Young children are sure to have a great time here – and older ones as well!.
And if you're visiting with football fans, they'll love a trip to see the San Mames stadium, the "Cathedral", where you can take a complete tour that includes both the stadium and the Athletic museum.
What to see in a day in Bilbao with children
If you don't have much time and want to see as much of the city as possible while visiting with children, it's an excellent idea to take a boat tour of the Bilbao Estuary, something that always fascinates even the youngest members of the family. It's a perfect way to discover in just an hour (the length of the cruise) the entire area in which the Guggenheim is located, one of the most beautiful areas of Bilbao today.
For exploring the city in a short time in a fun way that's enjoyable for children, a guided bike tour is an exciting option, and there are routes specially adapted for families. Its starting point is the estuary area, so the activity is ideal to combine with a visit to the museum or even with the boat trip, bearing in mind that the bike routes go beyond the estuary area.
What to see in the surroundings of Bilbao with children
On the other hand, if you aren't in a hurry and want to make exciting plans to get to know Bilbao's surroundings, an activity that is sure to be a hit with the little ones is the funicular ascent to Mount Artxanda. Once you're there, you can enjoy breathtaking views.
Similarly, crossing the Suspension Bridge that connects Portugalete with Las Arenas is an experience that captivates young and old alike. And if the weather's warm, you'll be closer to Mundaka, one of the most iconic places for surfing fans.
Where to eat in Bilbao with children
Mount Artxanda mentioned above has several family restaurants, and eating here is the perfect finishing touch to your funicular excursion. However, you will also find many playgrounds throughout the city, and it's not a bad idea to eat in the Plaza Nueva in the old part of the city, since there's a vast space for children to play and run around.
Where to stay in Bilbao with children
When staying in Bilbao with children, the best option is an apartment for the whole family like the ones offered by Líbere, where you also have the opportunity of staying in a privileged location, opposite the Guggenheim itself.
Accommodation in Bilbao that has it all
In this unbeatable location, you can enjoy accommodation with every detail needed for maximum comfort: rooms with sofa beds and wardrobes, kitchen equipped with both kitchenware and appliances (dishwasher and washing machine-dryer included), and the latest technology, including air conditioning, Wi-Fi networks and television.