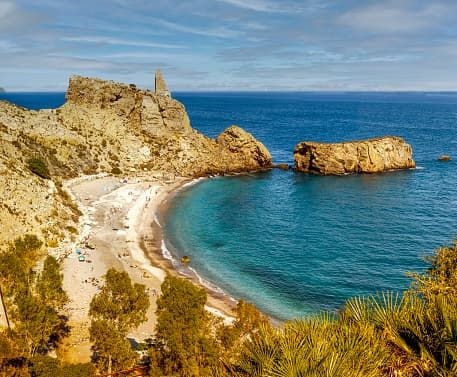 Best beaches near Granada to cool off
Beach destinations acquire a special prominence during a vacation trip. There are many reasons to visit Granada. Its beaches offer you the ideal environment to refresh yourself. And also to enjoy direct contact with nature. Granada is universally known for some of its most representative monuments. Guided tours of the Alhambra show a holistic view of a place full of history. You can also walk the streets of the Albaicín neighborhood or go to the oldest square in the city. A location that, curiously, is identified with the name of Plaza Nueva. The trip through the province can be complemented with the discovery of other charming towns. Visit Salobreña or Motril.
And discover the Alpujarra of Granada. The best beaches of Granada offer the ideal setting for refreshing days during the summer days. But the perfection of the coastal landscape can be rediscovered in autumn, winter and spring. Traditions, monuments, architecture, gastronomy, art and landscapes await you in summer in Granada. In addition, it is a trip that surprises with spectacular images and provides a very relaxing experience. For all these reasons, the itinerary offers the ideal setting to practice mindfulness, read a book, play sports, go for a walk and enjoy family days.
The best sandy beaches in Granada
Below, we share a selection of must-see landscapes. And we encourage you to personally discover the beaches of Granada.
La Caleta Beach
Salobreña is located on the Costa Tropical. Its castle, located 73 meters above the sea, embellishes a picture postcard. The beach of La Caleta, meanwhile, has crystal clear waters and a quiet atmosphere. The spectacular cliffs, one of the best beaches in Granada, are integrated into the landscape of the area. If you are looking for the closest beach to Granada, those of Salobreña are an option to consider.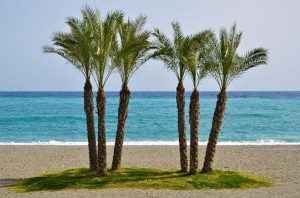 How to get to la Caleta beach: By car, take E-15/A-7 from Camino de la desviación, C. Andaluces and C. Arcángeles. Follow A-45, A-92M, A-92 and A-92G towards C. Méndez Núñez, Pl. del Guitarrista Manuel Cano and take exit 12 from GR-30. Follow C. Méndez Nuñez and take Avenida de Fuente Nueva towards Reyes Católicos.
La Herradura Granada
It is located in the municipality that bears the same name, which is located a few minutes away from Almuñécar. Its white streets form a picture postcard with the landscape of its beaches. La Herradura, the most important of all, is positioned in the heart of the promenade. Besides having an excellent location, it is equipped with a wide range of services. It is a natural landscape that extends for more than two kilometers. In addition, the name of the place refers to its characteristic shape. It is the perfect setting to enjoy a family day, as the beach has playgrounds for children. Discover a lot of beaches near Granada!
How to get to La Herradura Granada: By car, the fastest route to get there is by the A-44 and the A-7.
Motril Beach Granada
Motril is a destination with a subtropical climate. Its coastline is full of charming places, all of them bordered by crystal clear waters. The Poniente Beach, for example, has a family character. You can ask any questions at the tourist information points set up in the area. Its promenade pays tribute to the figure of King Baudouin. It is an urban beach with an approximate width of 120 meters. On the other hand, Granada Beach is the place chosen by sports lovers to practice water activities.
Paddle surfing and windsurfing are integrated into the landscape of the area. Playa de las Azucenas, on the other hand, is composed of dark-colored coarse sand. Its approximate width is thirty meters. Carchuna Beach offers a wide variety of services: restaurants, hammock rental, tourist information and leisure areas. The beach of Calahonda calls the attention for its transparent waters. It has a children's playground, water fountains, perfectly adapted toilets and parking areas. One of them is located very close to the Paseo de la Playa. The sandy beaches in Granada are spectacular!
How to get to Motril beach: By car, on the A-44 take GR-30 from Recogidas street and continue on A-44 towards N-323A until you reach Julio Moreno avenue.
La Rijana Beach
It is a natural paradise located in Gualchos-Castell de Ferro. It stands out for its temperate subtropical climate. It is the ideal environment for those looking for very quiet beaches. There is the cove of La Rijana: it has an extension of 250 meters and does not have a promenade. It is the place chosen by some people to practice scuba diving. The architecture of the streets of Gualchos stands out for the white aesthetics of its buildings. For its part, the floral ornamentation of the balconies surprises the visitor. In addition, it is located only 18 kilometers from another municipality to which we have previously referred: Motril. Castell de Ferro, meanwhile, is a fishing village. As you can see, you have a lot of things to do in Granada in summer.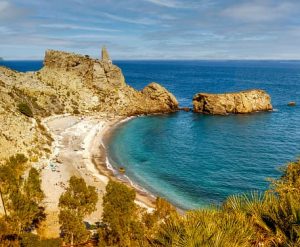 How to get to la Rijana Beach: By car, take GR-30 from Recogidas street. Follow GR-30 towards E-15 and take exit 342 from A-7 and drive to Almeria road N-340.
Melicena Beach
Its landscape stands out for the beauty of the dark-colored sand. The beach has an urban character and is located in Sorvilán. The village is framed in the Alpujarra Baja Granada. Its approximate width is 40 meters. It is the ideal destination for those who prefer beach places that are not crowded in high season. It is equipped with different basic services: litter garbage cans, cleaning and toilets. If you are looking for the best beach in Granada, Melicena is a sure hit.
How to get to Melicena beach: By car, take GR-30 from Recogidas street. Follow GR-30, take exit 359 from A-7 and continue on N-340 to Av. del Mar.
Calabajio Beach
Would you like to enjoy the charm of a semi-urban beach? Then, come to Calabajio, which is located in Almuñécar. It has an extension of more than three hundred meters long. Rocks, vegetation and dark-colored sand describe the landscape of the area. The visitor enjoys great comfort. Note that you can rent a hammock with umbrella. Moreover, near the beach there is a small parking lot. In Almuñécar you can visit other charming beaches. Puerta del Mar, for example, is located in the city center. The water park is one of the highlights of Playa Velilla. The cove El Tesorillo is a natural landscape integrated by a wide range of services.
How to get to Calabajio beach: By car, take GR-30 from Recogidas street until you reach exit 314 from E-15/ A-7. Then take the road to Almeria N-340 to Velilla-Taramay.
The best coves in Granada
Enjoy a relaxing trip accompanied by the best views. The coast of Granada beaches presents a lot of corners full of magic. Below, you can discover some of the coves that stand out in the area.
Barranco de Enmedio
Almuñécar is one of the municipalities that hides numerous charming places. Barranco de Enmedio, like the beaches mentioned above, is located in the town. It has a length of 160 meters. On the other hand, it has a width of thirty. It is a beautiful corner, very calm, since it is not near the center. And, on the other hand, this beach of coarse sand is located in an environment that has been little urbanized.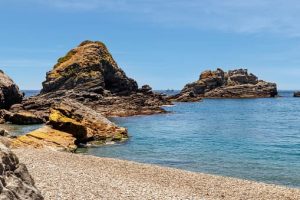 How to get to Barranco de Enmedio: By car, you must go by GR-30 direction Carr. de Almería/ N-340.
Calaiza Beach
It is a protected and quiet area that is located in Almuñécar La Herradura. More specifically, it is located in the surroundings of the Natural Reserve of Cerro Gordo. Very close to the place is framed by the Cave of Nerja. Therefore, it is a context full of beautiful contrasts.
How to get to Calaiza beach: By car, you must go by GR-30, take the exit 305 from E-15/A-7 and go towards C. Enebro.
Curumbico
We finish this list of recommendations with a cove that is in Almuñécar. The main landscape is composed of two ingredients: gravel and gray sand. The extension of this beautiful corner exceeds two hundred meters long and twenty meters wide. You can access the place from Playa Cabria.
How to get to Curumbico: By car, by G3-30 take exit 314 from E-15/A-7. Continue on Almeria road N-340 direction C. Ibiza.
Enjoy beaches, coves and nature during an unforgettable trip to the heart of Granada, the coast of Granada will surprise you!