Family plans in Madrid for the little ones
The city of Madrid has many good things and one of them is the large number of plans and entertainment options it offers for young and old. There are many who come down to Madrid on a weekend to enjoy the nightlife of the capital with their friends or with their partners looking for more gastronomic and relaxed plans. Surely, you've heard or seen on social networks images of the panoramic views of the city that can be seen from the skybars and best terraces of Madrid; one of the most fashionable plans right now and perfect to enjoy the beautiful sunsets that gives us the Community of Madrid.
Visiting Madrid with a dog is also a highly recommended option if you do not want to leave your dog alone for a few days. You have a long list of plans to enjoy with your pet, from going to pet friendly restaurants in Madrid, walking through the dog parks or visiting some of the most original pet stores in the capital where you will find fun gifts for your dog. You can also stay in Madrid with your pet in petfriendly apartments.
If you decide to travel to this city with your family, you will know that it is essential to organize your agenda exclusively with places to visit in Madrid with children because 90% of the family plans to do will revolve around them. The energy of children is inexhaustible and we know that after an intense day you will want to rest and regain strength for the next one. That's why we have prepared a list of things to do in Madrid with family with fun plans ranging from theme parks, water plans or original amusement parks that will help the little ones of the house to exhaust their energy and enjoy a different way to stay in the city.
Madrid Amusement Park
One of the most touristic and visited points of the city are the amusement parks in Madrid. These spaces are perfect for both children and adults to have a great time riding on its various attractions. We have chosen the two best theme parks in Madrid for you to write them down in your list of places to visit in Madrid with children.
Warner Bros Park Madrid
The Universal Studios Park in Madrid was inaugurated 20 years ago. Located 30 kilometers from Madrid, this park is a great place to spend an unforgettable day with the family and enjoy shows like Crazy Police Academy that will make you feel like in a Warner Bros. movie. It has 5 themed areas inspired by cartoons and superheroes. The best time to visit this theme park is during the summer, when all the attractions are open, especially the water rides, which are the ones most enjoyed by young and old alike. Regardless of the date you choose to visit, we recommend you buy the fast pass to avoid the long queues at the entrance. Warner Bros Madrid is open every day of the year except some weekends in September, October and December.
Casa de Campo Amusement Park
The amusement park Casa del Campo is located inside the Casa del Campo Forest. It is the most legendary park in Madrid, inaugurated in 1962 52 years ago. A theme park that has been able to renew itself over time and has nothing to envy to other more popular amusement parks. Here both children and adults can enjoy attractions such as Nickelodeon Land, focused on the smallest of the house or Abyss, Tarantula and Flying Chairs, attractions of greater adrenaline for adults. A highlight of this theme park is that you can bring your own food and use the picnic areas that you will find nearby. In short, Casa del Campo Amusement Park is a great place to spend a fun day with children in Madrid.
Water activities in Madrid
If you decide to visit the city of Madrid in summer or hotter seasons, do not miss our proposals for water activities in Madrid to escape the heat while you have fun with your family.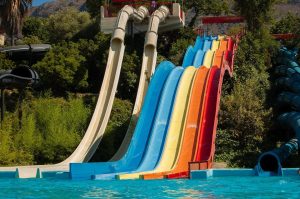 Warner Madrid Beach Water Park
The water park Warner Madrid Beach is an excellent place to take the kids to enjoy a hot day in the city. It is a simple and cozy water park with slides, inflatables, and wave pools. All the attractions are very close to each other so you will not lose sight of your children at any time. The only negative point of this park is the long queues, so it is highly recommended to get your tickets in advance. Open daily from 12.00 to 19.00.
Natural pools of Madrid
Despite being an inland city, there are natural pools in Madrid as the Berceas pools, a perfect place to relax in the middle of nature and spend the day with the family. In them you will find two pools of 3.50 meters deep divided into different areas: 0.50, 1.50 and 1.90. This natural space has a free parking area of 400 meters. To ensure you can leave your car there if you visit during the weekend, you should arrive early as it tends to fill up quickly.
Best fun parks in Madrid
Pirlimpimpim fun park Alcobendas
The Pirlimpimpim park located about Alcobendas is one of the best ball parks in Madrid. It is a small but very familiar ballpark with everything you need: balls, discotheque, hair painting, thrones and of course a cafeteria area for parents to have a quiet drink. This ballpark has an area for babies and children under 2 years old. Be sure to visit it if you are in the Fuentelucha area.
Big Jump Park Madrid
Big Jump Park is a good place to go with children in Madrid and to enjoy with friends, couple or even alone. Here you will find the largest bouncy castle in the world. Something to note about this space is that adults can also make use of the park. You can play soccer, volleyball and even climbing. Fun and exhaustion all in one.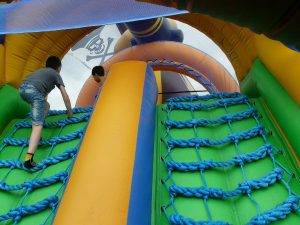 Pokiddo Park Madrid
Going to Pokiddo park is the trendiest family entertainment plan in Madrid. You can go back to childhood with a couple of jumps on any of its mats. This leisure center focused on children and adults is ideal for all those people who want to start or are curious about the world of parkour and for those looking to enjoy various fun activities in Madrid to do with the family. The price per hour is 12 euros. If you have non-slip socks, bring them, otherwise you will have to pay 2 euros to get some.