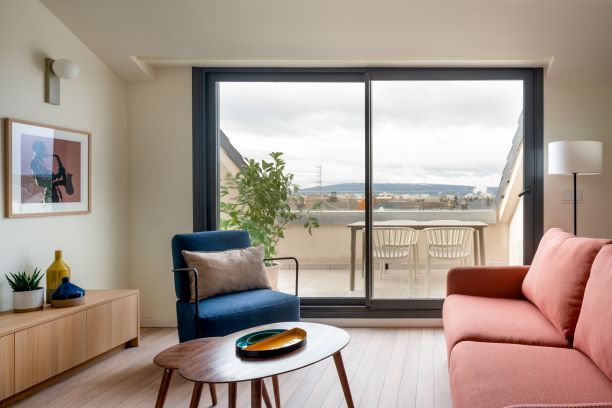 Líbere: A new concept of accommodation in Vitoria
Travellers are increasingly searching for a different type of accommodation to complement their trips. And customers today not only demand a functional space to stay but also value the room as an experience in its own right that will enhance their visit. Comfortable, bright areas are essential, while innovation, sustainability and design are the most sought after attributes.
From the heart of the Basque capital, Líbere presents a new accommodation concept that breaks the traditional rules. An option born to respond to current needs, where technology plays a leading role, and the residents are at the centre of every decision.
Smart apartment
Located 10 minutes from the Plaza de la Virgen Blanca, these apartments in Vitoria invite you to discover every corner of this historic villa through the privacy, comfort and security of a home from home. And even better, whenever and however you want. This is why Líbere presents technology as an essential tool so that you, as a resident, can define your experience of accommodation with total freedom. This smart apartment model has an online reservation and access process that you manage from your mobile device. Once you have checked in, you will receive a personal code that will serve as a key to unlock the apartment entrance. An appealing idea! Líbere aims to evoke the comfort of entering a space that feels like your own, without depending on external factors or barriers.
As you can see, the company uses technology as one more element that brings positive emotions to the experience. However, it is also essential that you feel cared for. So in the event of any incident or need, a Global Concierge system will allow you to contact the Líbere team by phone, email or WhatsApp in a 24/7 multi-language customer service. They will be happy to help you!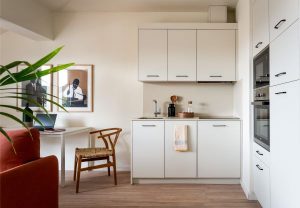 Your hotel in Vitoria city centre
With Líbere, you can choose to stay in a studio, apartment or a loft with a terrace offering views over the centre of the Green Capital of Euskadi, and your accommodation provides a clear advantage with adaptable spaces to meet the requirements of each visit. The apartments have a minimalist design with simple lines. Natural materials create a neutral, warm atmosphere that is fully customisable to make it your own. Whether it's a family trip, a business trip, for a couple or an opportunity to discover the north with friends, you can adapt the spaces and facilities to your own needs. And dogs are more than welcome! Enjoying the local gastronomy and culture and returning to a well-designed, intelligent, fully equipped, and personal space will make your trip a unique experience.
Líbere is here to disrupt the traditional concept of accommodation, innovating from a new perspective, yours. Will you join us?