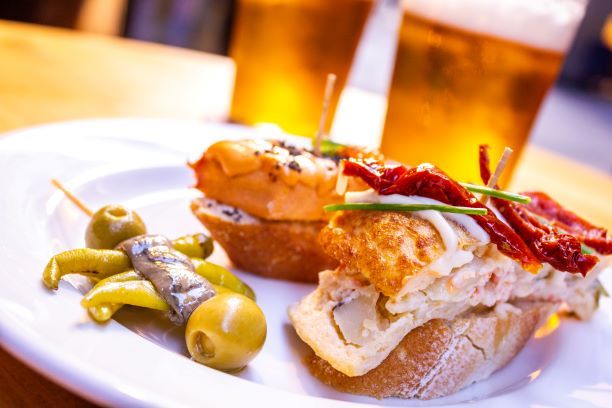 Where to eat in Vitoria: Gastronomic guide to the capital of the Basque Country
The Basque Country is world-famous for its rich and varied cuisine. Vegetables, meat, fish … And what can we say about the region's Rioja Alavesa wines! Thousands of tourists visit San Sebastián every year to savour delicious pintxos, and it is also the city with the most Michelin star restaurants per inhabitant in the world. Thanks to the Guggenheim museum, Bilbao has also seen an explosion of renowned restaurants and bars with delicious culinary miniatures to nibble. And Vitoria? Despite going relatively under the radar, Vitoria is a city with a very varied gastronomic offer. Thanks to its proximity to the Cantabrian ports, its climate halfway between the plateau and the sea, and the proximity to La Rioja, Álava and its capital are a little jewel box full of surprises. If you are planning to travel to Vitoria, read on to find out where to eat cheaply and well.
Where to eat well in Vitoria
We kick off our review of Vitoria's restaurants with one of the most iconic and prestigious: the Zaldiaran restaurant. This establishment is located on Avenida de Gasteiz, very close to the Líbere apartments in Vitoria, and stands out for its tasty meats, the varied menu and its excellent service. This restaurant features a seasonal tasting menu, a grill menu and a special menu for groups. It is also well-known for hosting gastronomic events.
Another of the most famous restaurants in the city is Ikea, which in Basque means small hill. It's on the Calle Puerta de Castilla, very close to Parque de la Florida, and subtly combines traditional Basque cuisine with the most daring avant-garde dishes. It includes menus for groups with iconic names, such as the Anboto menu, the Mariscal menu, and an Executive menu. There's no doubt that Ikea is one of the best restaurants in Vitoria and the province.
The Kaskagorri restaurant is located in the Plaza del Machete, very close to the Plaza de la Virgen Blanca. It's pretty new, with a young and carefree atmosphere and resembles a cave or old cellar. Although it is open both mornings and evenings, you can only reserve a table for the evening sitting. This restaurant combines traditional and homemade food with the latest in European cuisine. As well as standard and group menus, it offers diners an "experience" menu.
Where to eat pintxos in Vitoria
To savour the best pintxos in Vitoria, we will focus almost exclusively on the Old Town, where you'll find an array of bars and taverns full of these little delicacies. Here are some of our favourites.
We start the walk through the legendary Calle Cuchillería or "Cuchi", as the people of Vitoria have called it all their lives. The "El Gautxo" bar is renowned for stuffed pepper pintxos, txistorra (the local chorizo), croquettes, baby eels and salad.
We continue our walk through the "Cuchi" until we reach Txolarre. This place offers exotic pintxos such as chicken fajitas or toasts with vegetables, although its signature dish is crisply fried squid.
Following our route through Cuchillería, we quickly arrive at Idoia, a temple to homemade croquettes and poached eggs. A must-see in the Old Town of Vitoria.
We cross to Calle Correría and arrive at Tulipán de Oro, a place that stands out for its "disturbing" chorizo ​​al Infierno. What is it, exactly? A clay dish with alcohol in which the chorizo ​​is roasted.
And outside the Old Town, on Prado Street, you will find the Sagartoki steakhouse. This eatery has won multiple awards, including the best pintxo bar in Spain, the best potato omelette and more. Its daring version of huevo con patatas (egg with potatoes) stands out: an egg hiding inside a sheet of dehydrated potato.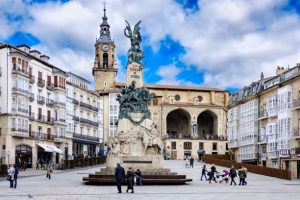 Where to eat the Menu of the Day in Vitoria
If you've already tried the pintxos route and would now like to sit down and eat cheaply and well in Vitoria, we recommend the following restaurants.
The Olarizu Restaurant is located on Avenida Beato Tomás de Zumarraga, very close to Avenida de Gasteiz and the Líbere Vitoria Aparthotel. This establishment offers a wide variety of menus, such as its high-quality menu of the day for 18.50 euros. It also features a weekend menu, a children's menu, a "birthday txiki" menu for the little ones, a special menu … In short, a menu for every taste.
In Calle Rioja, very close to the famous Plaza de Los Fueros, we find Jauja, with stone and wood decor – industrial style and cosy in equal measure. For approximately 11 euros, we can sample their menu of the day consisting of homemade and traditional dishes. And we'll also find hamburgers, burritos and sandwiches. For smaller appetites, half-menus are approximately seven euros.
Finally, on the bustling Calle Dato, we find La Regadera. For 15 euros in the bar and 19 euros in the dining room, we can enjoy their menu of the day, in which we find traditional dishes such as lentils, potatoes with chorizo, rice with Bolognese sauce, pigs' cheeks or grilled hake. The weekend menu here includes delicious dishes such as scrambled eggs with lobster, red prawns with guacamole and pico de gallo, monkfish with black garlic refried… A pleasure for the senses!
Vegetarian restaurants in Vitoria
If you would prefer to savour vegetarian and vegan dishes, you will find several options in Vitoria that won't disappoint. El Parral and the Museo del Órgano include both vegan and vegetarian options. The former stands out for its cosy atmosphere and sometimes offers live music. On the other hand, the Beganbai and the Black Salad are 100% vegan restaurants. Beganbai offers macrobiotic dishes, while the second offers vegan versions of traditional Basque and international cuisine.