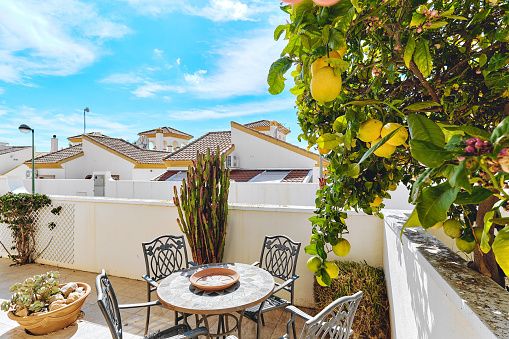 Our selection of terraces in Cordoba
Cordoba is one of the most visited destinations during the vacations. Its patios can be seen beyond the month of May, when the mythical Festival is celebrated. It is the perfect environment to organize excursions to charming destinations. Visit Baena and discover its castle, its religious heritage or the Olive and Oil Museum. Almodovar del Rio, located in the Guadalquivir Valley, is universally known for its mythical medieval castle. Discover environments of high archaeological value in Espejo where you can visit El Aljibe. Stroll through the streets of Aguilar de la Frontera and observe the beauty of the facades of its stately houses.
Would you like to visit a refreshing place? Come to Priego de Córdoba and enjoy its numerous fountains that visually embellish the landscape. The Fuente del Rey, the most important of the municipality, combines baroque and neoclassical style. The reservoir of La Breña II, in Almodóvar del Río, is another natural space that will surprise you. In short, design a route tailored to your expectations. And enjoy the local gastronomy with delicious traditional dishes. Salmorejo, potato omelette and Cordovan cake are simple and delicious proposals.
Bars with terrace for breakfast in Cordoba
A trip to Cordoba also allows you to discover charming restaurants. Those with a terrace are especially appetizing for breakfast. Discover a selection of establishments with the best views.
Maddow coffee shop
This place is located at 44 Cardenal González street. It is the ideal place to enjoy breakfast and brunch in the company of family and friends. It has a menu with a wide variety of juices of different flavors: orange, lemon, pear, pineapple, watermelon or ginger. It is currently open from Tuesday to Friday from 9.00 am to 1.00 pm.
The Club Córdoba
It is located at Avenida Fray Albino, number 3. And coffee is its specialty. The history of The Club Córdoba begins in 2017 and the establishment has positioned itself as a benchmark in the area. Not only for the quality of its menu, but also for the excellent location of its spacious terrace. From there you can contemplate the spectacular image of the Mosque of Cordoba while savoring a delicious breakfast. The Club Cordoba opens its doors every day of the week!
La Bicicleta Córdoba
It is located at Cardenal Gonzalez, number 1. Therefore, it is located on the same street as Maddow coffee shop, to which we have alluded above. Its delicious cakes, the creativity of its elaborations and the natural juices conquer the customers. It also has excellent ratings on its Facebook page.
Restaurants with terrace to eat in Córdoba
Next, we invite you to discover other restaurants that offer an excellent gastronomic proposal.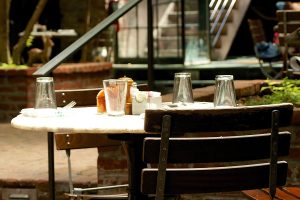 Restaurant Casa Pepe Córdoba
It is an establishment with history that began its journey in 1920 and since then has starred in different stages. The most recent began twenty-five years ago. As you will see, the place retains its traditional charm. In addition, the space is decorated with a careful collection of paintings made by Cordovan artists. Casa Pepe's menu is elaborated with first quality ingredients. Garden products, meats, fish and sweet proposals are part of this gastronomic universe that is located in Romero Street, number 1. From its spectacular terrace you can contemplate the Mosque-Cathedral!
Taberna 10 Cordoba
Taberna El Nº10, located on Romero Street, is a well-known tapas place with a cozy decoration. It is located in a mythical setting: in the Jewish Quarter. Its varied menu presents a reinterpretation inspired by the essence of traditional cuisine. Discover its selection of wines, whose quality is accredited by an important Designation of Origin: Montilla Moriles. Would you like to attend a tasting to try new flavors?
La Posada del Caballo Andaluz
It is a recently renovated restaurant. It has different areas with a warm natural lighting: discover its spectacular Cordovan courtyard or its large terrace. It is a building with a long history that extends over five centuries. In addition to the patio and terrace, it has elegant lounges. La Posada del Caballo Andaluz is located at 16 San Basilio Street. Currently, it opens its doors every week from Tuesday to Sunday. You can take a virtual tour through its website to discover the decoration of a restaurant specialized in traditional Cordovan cuisine.
Terraces with views for dinner in Cordoba
Discover the magic of Cordoba when the night comes. Do you want to organize a dinner with family or friends? Do you prefer to plan a getaway in solitude and enjoy gastronomic tourism? Take note of the following recommendations!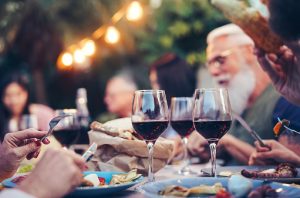 La Taberna del Rio Cordoba
The address of this establishment is as follows: Calle de Enrique Romero Torres, number 7. There you can enjoy a proposal that combines the tradition of classic dishes with the innovation of signature cuisine. Its spectacular terrace offers a panoramic view of the capital of the province. An excellent location that is completed with a menu that contains different gastronomic styles. If you wish, you can make your reservation through the website of La Taberna del Río. In that case, click on the Reservation option and fill in the information requested in the form.
Casa Rubio Córdoba
We finish this selection of essential addresses with a tavern located in Puerta de Almodóvar, 5. Its rooftop is the perfect place to contemplate the views of the historic center. Discover an establishment with history that opened its doors in 1920 and, since then, has completed different stages. The restaurant, which maintains its original structure, was renovated in 2001. Through the website of the restaurant Casa Rubio you can take a virtual tour to visit its different rooms. As you will see, the rooftop is a spectacular setting for outdoor dining.
Cordoba offers a wide range of bars and restaurants with terraces for breakfast, lunch and dinner. Enjoy the best views of the city!