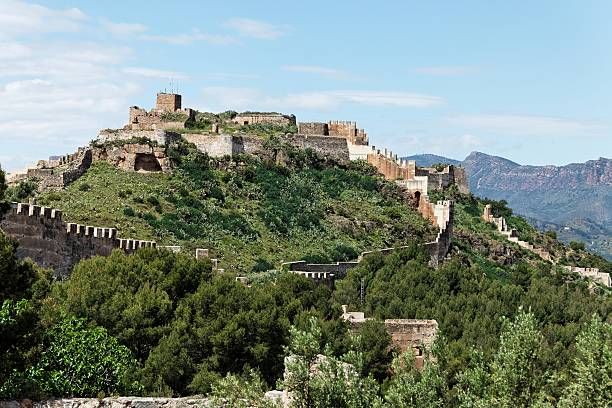 Tours near Valencia: Visit Sagunto
If you are thinking of visiting Valencia, be sure to see Sagunto, a historic town located in the Valencian Community, universally known for two jewels of important cultural value: its Roman theater and its castle. Iberians, Phoenicians, Greeks and Romans are part of the history of the city. In its streets you can also discover its medieval influence.
What to do in Sagunto: must-see sights
We invite you to enjoy a touristic and gastronomic tour of the surroundings.
Sagunto Castle
It is a building framed by spectacular walls. It is located on a hill that surprises with its attractive views. Undoubtedly, it is an essential visit that you should note in your agenda. Keep in mind that it is a National Monument (it was recognized as such in 1931). And it is located on Calle del Castillo.
Roman Theater of Sagunto
The construction of the space is contextualized around the year 50 A.D. and, later, it was remodeled. The updating process was carried out in 1989. The building, like the castle, is recognized as a National Monument. It is composed of two main areas: the grandstand and the stage. During the summer months, different performances are programmed for the celebration of a new edition of the Sagunt a Escena theater festival.
Sagunto Old Town
As we have previously indicated, the Castle and the Roman Theater are the heart of Sagunto. Well, around them is located the old town. Before starting the tour of the area, you can visit the Tourist Office. This information point is located in the Plaza Cronista Chabret. It is open every day of the week.
The Historical Museum of Sagunto is one of the buildings you can see in the old town. The two-story building, located in the house of Mestre Penya, is striking for its Gothic style. The museum presents a catalog of pieces with a high value from the archaeological point of view. The Gothic style is also present in the Church of Santa Maria, which is located on Main Street. This part of the city has a population of approximately 20,000 inhabitants, so plan a pleasant stroll through the old town and discover its cultural legacy!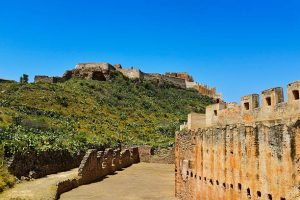 Where to eat in Sagunto
Enjoy quality gastronomy during your visit to Sagunto.
El Mirador de Sagunto Restaurant
It is an establishment that is located in an incomparable environment: very close to the mythical castle. More specifically, in Camino de Liria, number 46. It has a modernist aesthetic decoration. It has facilities of 6,000 square meters where many events are held. El Mirador de Sagunto Restaurant, which has its own kitchen, also offers the menu of the day. Discover its wide selection of rice dishes!
Sopa Frita Sagunto
Mediterranean cuisine is the specialty of this gastronomic bar that opens its doors at Calle Alquerieta del Roc, number 15. You can enjoy its delicious selection of tapas. It is a gastrobar that has positioned itself as a reference in the area.
La Taverna de la Serp
As you will see, it is an establishment that is located in an incomparable setting: the castle and the Roman theater. There you can taste historical dishes in a tavern with a pleasant medieval atmosphere. Therefore, a visit to the place offers the surprise of a culinary journey through time. It also has an outdoor terrace area.
Beaches of Sagunto
After a touristic and gastronomic tour, enjoy a walk through some of the most spectacular natural landscapes.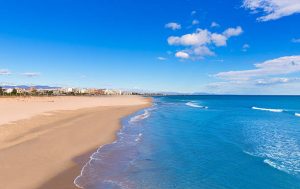 Corinto Beach
It is a landscape that is ideal for those who want to enjoy a day at the beach in a setting that is not crowded. It has a wide variety of services, as well as a restaurant and parking area. Located in the northern part of the city, discover a universe of contrasts with coarse and fine sand!
Port of Sagunto Beach
It is an urban zone that presents a high degree of occupation. It has an approximate extension of 1300 meters long and 200 meters wide. It has a spectacular promenade with an intense social life and a varied offer of cafes. It is the perfect environment to organize a day with the family, since it also has leisure areas for children, with security service and parking. It has security service and parking. How can you get there? Write down the address: the beach is very close to Av. Mediterráneo.
Almarda Beach
Finally, discover the landscape of a very special environment. It is a space with an extension of more than 1600 meters long and a hundred meters wide. The environment has a high natural value, which has a curiosity: the dunes. The landscape is composed of two perfectly combined ingredients: sand and stone. Almarda Beach is very well equipped to enjoy an unforgettable day with family or friends. It should be noted that its facilities are accessible for people with reduced mobility.
Sagunto is a city with history. Therefore, it is an environment that will surprise you with emblematic buildings, nature in its purest form and excellent Mediterranean cuisine.