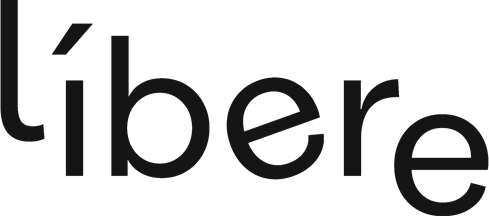 Líbere Bilbao Museo
Alameda de Recalde, 1, 48009 Bilbao (Bizkaia), Spain
A space for you in Bilbao's most avant-garde district.
Are you traveling in a group?
Best Prices
Guaranteed
Arrive at your own time
Early check in
Forget the alarm clock
Late check out
Líbere apartments in Bilbao
The Líbere Bilbao Museo apartments are in the centre of town, a perfect starting point for exploring the city. They have located just 20 metres from the Guggenheim museum, which has already become one of Bilbao's most iconic attractions. The location is unique, in an area full of vibrant ​​life, with an avant-garde ambience and with everything you need close at hand.
All apartments have the latest technology: air conditioning, Wi-Fi connection and TV. The kitchen is fully equipped with kitchenware and appliances, including a dishwasher, microwave, fridge-freezer and washer-dryer. The bathroom is well fitted, with a hairdryer included, and the rooms are furnished with a sofa bed, wardrobes and a safe.
The accommodation is accessible for people with reduced mobility. It also offers everything needed for your comfort: Wi-Fi, tourist information, extra cleaning, cot, laundry and ironing service. Pets are allowed.
Enjoy your experience at Líbere Bilbao Museo
Easy access from the highway.

Located in the city centre, 20 m. from the Guggenheim museum.

Central area with stores, cafes and restaurants.

Air conditioning.

Fully equipped kitchen.

Wi-Fi.

24/7 reception.
Early check in, late check out. (According to availability)

Express check in.

TV.

Laundry and ironing service.

Pets allowed.

Access for those with reduced mobility.
Choose your apartment in Bilbao
Studio in Bilbao Museo
Maximum persons: 4
The studio has an approximate 30 m2 and a maximum capacity of 4 people. It is air-conditioned, has wardrobes, a double bed and and sofa bed. It also has wifi and a 55' TV. The kitchen is fully equipped with appliances and utensils. The bathroom includes a hairdryer and toiletries.
One bedroom apartment Bilbao Museo
Maximum persons: 4
The one bedroom apartment is approximately 50 m2 and has a maximum capacity of 4 people. It has wardrobes and a double bed or two twins, plus a sofa bed and is air-conditioned. The kitchen is equipped with appliances and kitchenware. It also has wifi and a 55' TV. The bathroom includes toiletries and a hairdryer.
Live, experience and feel in harmony with your surroundings.
Where the Líbere Bilbao Museo apartments are located
Alameda de Recalde, 1
48009 Bilbao (Vizcaya)
Spain
How to get to the Líbere Bilbao Museo apartments
From the airport
Take the N-633 road to Barrio Gaztañaga then N-637 towards the Artxanda tunnel.
By bus
Lines 13, 27, 38 and 48 pass by Alameda de Recalde.
By metro
The Moyua metro stop, where lines L1 and L2 pass, is 10 minutes away.
By car
A-8 exits Zabalburu and Basurto. If you take the N-637 you need to cross La Salve bridge. If you take the BI-625 you will need to cross the Deusto bridge.
By taxi
Make online reservations at the Taxi Bilbao website or by phone on +34 94 444 88 88
Frequently asked questions about the Líbere Bilbao Museo apartments
If you have any questions, please contact our Help Center
Are you traveling in a group?
Bilbao Travel Guide
What to see in Bilbao in one day
If you only have one day, we invite you to discover the city's highlights. You will be able to get around easily on foot or by bicycle to discover Bilbao's main attractions.
On leaving your Líbere Bilbao Museo apartment, you will see the imposing silhouette of the famous museum before you. Moving in this direction, go around it to the left, where you will come across Puppy, Jeff Koons' mythical and colourful sculpture. Contemporary art lovers will enjoy exploring the Guggenheim's galleries. If you want to pack in as much as you can into the day, just viewing the exterior, designed by the Canadian architect Frank O. Gehry, will leave you speechless.
A visit to the Bilbao Fine Arts Museum, just 9 minutes away on foot, is highly recommended. There, you can admire masterpieces by artists as diverse as Zurbarán, Murillo, Goya, El Greco, Sorolla or Gauguin.
Nearby is also the Palacio de congresos y de la música, better known as the Euskalduna Palace. Following the route, the Azkuna Centre is one of the nerve centres of the city's cultural life, with live art, exhibitions, documentaries, concerts and much more.
Crossing the Doña Casilda Park, head towards Gran Vía, one of Bilbao's points of interest. Continue your route to Casco Viejo (Old Town), a place that you cannot miss. If you prefer to travel here directly, the metro takes you to the Casco Viejo stop, where you can immerse yourself in its magical corners. Once here, the Arriaga Theater, the Church of San Antón, the Cathedral of Santiago, the Plaza Nueva or the Mercado de la Ribera are amongst the must-sees.
What to see in Bilbao and its surroundings
If you stay for longer than a day, we suggest some of the most exciting places to visit.
Getxo is one of the most recommended options, just 20 kilometres from Bilbao. On the shores of the Bay of Biscay, its beaches and cliffs are the ideal getaway spot. Another essential is San Juan de Gaztelugatxe, famous for its hermitage and landscapes.
Another obligatory stop is Mundaka, a beautiful, picturesque town with a massive appeal for surfers. Every year, surfing fans flock here, eager to ride its waves.
The options are multiple, but let's not forget to mention other unmissable places such as Bermeo or Lekeitio, fishing villages on the Biscayan coast.
Where to eat near your apartment Líbere Bilbao Museo
You will find a wide variety of options to eat well in the vicinity of your apartment. If you want to take advantage of the coast's proximity to enjoy fresh fish or seafood, Porrue or the Seafood Restaurant Mazarredo are two good bets. Those looking for a mix of local and modern cuisine are recommended to try the Nerua Guggenheim Bilbao within the museum. For those who prefer something simple, you will find both sweet and savoury crepes at Don Crepe, one more suggestion for an informal lunch. Finally, if you are more into tapas, be sure to try those at Abandoibarra Bar. An accessible place, with good presentation and ideas also for vegetarians.
Shops and stores near your Líbere apartments in Bilbao
If you go towards Gran Vía, you will find several shopping streets with fashion, sports and footwear shops and some well-known department stores, just over 5 minutes away. If you are in the Museum of Fine Arts area, you have the Zubiarte Shopping Centre nearby. Here you will find a supermarket, fashion and footwear stores, as well as fast-food restaurants. Thanks to its central location, your Líbere accommodation in Bilbao offers everything you need close at hand.
Tourist registration no. TBI00051