How do I enter the building?
On the day of arrival from the check-in time you will be able to access the building by opening our smart locks with your digital key. It is not necessary that you have already checked-in to enter the building (although we recommend having it done beforehand and going directly to your apartment).
You can do it in two ways (we recommend the first, safer and easier):
With the Líbere App: Bring your phone closer to the lock and keep it in contact to open the access door to the building.
You can download the app for Android and iOS.
With your digital key code: Enter the code at an even pace on the keypad of the lock. Remember to press the hash # at the end!
The code is the same to open all the locks you need (the main door of the building, your apartment, access to the parking lot, etc). Remember that to enter your apartment you must have completed the online check-in.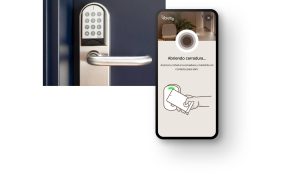 Extra info
If you want to anticipate your arrival you can request the Early check-in service from our Store. It is a service upon request subject to availability. More info here.
If you need to store your luggage before check-in time, you can consult our offer of lockers here.
If you need parking, discover the best parking options for each of our assets.