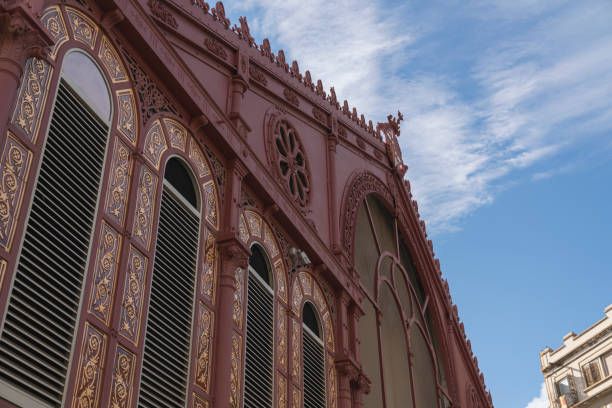 8 must-see places in the neighborhood of Sant Antoni in Barcelona
Barcelona is one of the destinations that surprises visitors with the charm of its neighborhoods. One of the most visited is Sant Antoni.
Below, we present a list of recommendations for places to visit during your trip to the city.
Mercat de Sant Antoni
It is an emblematic market that is open all day from Monday to Saturday. It offers a great selection of food products, including legumes, fruits, seafood, and sausages. The facilities have a completely renovated appearance thanks to a recent remodeling. However, it is a space with history since the inauguration of the Mercat de Sant Antoni dates back over a century. Specifically, it opened its doors in 1882. Well, this iconic place is located at the following address: Comte d'Urgell, 1.
Carrer del Parlament
Explore this mythical neighborhood to discover some of its most well-known streets. As you will see, Carrer del Parlament is one of them. Not only does it bring visitors together around local businesses, but also those who reside in the city. Keep in mind that there is a wide range of hospitality establishments on Carrer del Parlament. Therefore, if you want to enjoy social life in the neighborhood, you can visit some of its bars, cafes, or restaurants.
Teatre Lliure
During your trip to Barcelona, you can combine different experiences to make an unforgettable getaway. Cultural plans, which offer a very creative form of entertainment, deserve significant attention during your stay in the destination. Well, you can check the program of Teatre Lliure and discover what shows will take place on the days you plan to be in Barcelona. It is worth mentioning that the theater offers a discount on the ticket price on the Viewer's Day, which is currently celebrated on Wednesdays.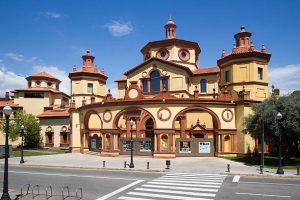 Biblioteca Sant Antoni – Joan Oliver
Enjoy the theater and literary tourism during your walk through the neighborhood. This mythical library opened its doors in 2007. It is worth noting that the building is located very close to one of the reference points we mentioned earlier: Mercat de Sant Antoni. And who was Joan Oliver and why does his name form part of the history of literature? He was a writer and poet whose pseudonym, Pere Quart, is also directly linked to his career. Well, a visit to the library allows you to better understand the author's work.
If you take a family trip and have young children, keep in mind that the center has a children's area. It offers an extensive catalog of works for children on stories and specialized topics. In addition, the library programs numerous activities that you can check on its website.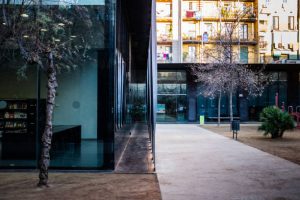 The Sortidors del Parlament
One of the reference bars in the area is The Sortidors del Parlament, located at number 53 on Parlament street. Their offer stands out for a varied selection of high-quality wines. Craft beer is another of the drinks that completes the offer of a venue that boasts a cozy decoration. Therefore, it is the perfect environment to savor a careful selection of tapas with a partner, family, or friends.
La Bella Napoli
Its different varieties of pizza occupy a special place on its menu since each preparation has the quality of artisanal touch and a careful selection of ingredients. It also offers takeout service. The restaurant is located at Villarroel, number 101. If you wish, you can visit the venue from Monday to Sunday since it opens its doors for lunch and dinner.
You can enjoy a cozy atmosphere that provides a journey through gastronomy. Imagine that, without leaving the city, you can feel a little closer to Naples through the cooking recipes of La Bella Napoli. If you want to know more information about the restaurant, visit its website.
Modernist Route
The modernist route is also part of this list of recommendations that can help you plan your trip. Observe, for example, the beauty of Casa Golferichs, a civic center located on Gran Via de les Corts Catalanes, 491. The facade of Casa Ramos is perfectly framed in this route. You can observe its spectacular perspective in Plaza Lesseps. Undoubtedly, the beauty of modernist architecture stands out in numerous buildings in the city. And the work of Antoni Gaudí attracts visitors from all over the world.
Joan Miró Park
In the city, you can also discover spectacular parks such as Joan Miró in Carrer d'Aragó, 2. It is a cozy setting that is formed by differentiated areas. For example, it has playgrounds for children. It is the ideal space to connect with nature in the urban environment, since the park's landscape is formed by holm oaks, pines (and other proposals). In addition to landscapes and gardens, architecture is also very present in the park. If you take a walk around the environment, you can discover the sculpture Dona i Ocell, a mythical work by Joan Miró.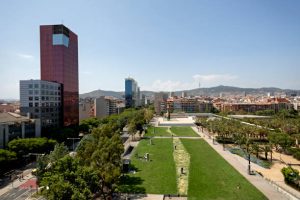 If you travel to Barcelona, make a special stop in the Sant Antoni neighborhood. And enjoy the atmosphere of its streets, the gastronomic offer that is presented in the environment, and its architecture.