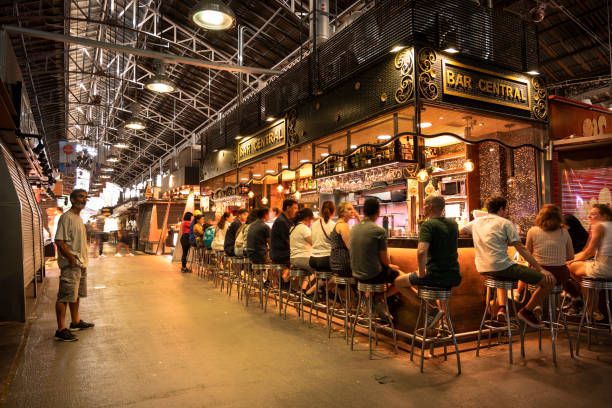 Where to eat in the neighborhood of Sant Antoni in Barcelona: Discover the best flavors of the city.
Gastronomic plans are integrated into the itinerary of a special trip. They offer the possibility to enjoy the atmosphere of the place, discover new flavors, and engage in pleasant conversations. Do you want to plan a trip to Barcelona to explore its architecture, culture, and gastronomy?
Discover the neighborhood of Sant Antoni and its gastronomic offerings.
The neighborhood of Sant Antoni is a point of reference for families, couples, and friends visiting the city for a getaway. Its streets showcase a wide range of restaurants, tapas bars, cafes, and establishments offering different specialties.
Characteristics of the Sant Antoni neighborhood – History, ambiance, and tourism.
It is a neighborhood that currently enjoys a vibrant social life and a high level of commercial activity. One of the landmarks in the area is the Sant Antoni Market. The population of the neighborhood exceeds 37,000 inhabitants. However, its streets also welcome numerous visitors every day who enjoy their stay in the city. One of the streets that has gained significant prominence is Parlament.
The 8 best places to try food in Sant Antoni.
Below, we present a selection of names with eight key recommendations. These establishments combine a highly personalized decor, good service, and a varied menu.
El Sortidor: Enjoy the best rice dishes and wines from the region.
The restaurant's menu offers a delicious variety of starters, main courses, rice dishes, and desserts. The sweet wine also stands out in El Sortidor's offering. The establishment is located at Plaça del Sortidor, 5.
Bodega Sepúlveda: Traditional Catalan cuisine with local and seasonal products.
If you want to savor some of the dishes that are part of traditional Catalan cuisine, you can reserve a table at Bodega Sepúlveda: an establishment that opens its doors at Carrer de Sepúlveda, 173 Bis.
Alternatively, you can also place a takeout order. Their gastronomic universe highlights hearty dishes. However, the offering is quite diverse, as Bodega Sepúlveda also provides a wide selection of salads, different varieties of fish and meat, desserts for all tastes, and quality wines.
Cañete: The best Spanish food in a cozy and elegant atmosphere.
Do you want to discover a tapas place that is a reference in the area? Bar Cañete is located at Carrer de la Unió, 17. Currently, the establishment closes on Sundays. Their cuisine stands out for the selection of high-quality products and ingredients. This is evident in the seasonal vegetables, fresh fish, support for local agriculture, and seafood.
Can Cargolet: Discover traditional Catalan cuisine in this place with fresh and high-quality products.
The gastronomic itinerary we propose includes a wide variety of options. In this case, Mediterranean cuisine and quality products are the protagonists of the dishes you can taste at Can Cargolet (located at Comte Urgell, number 17).
Els Tres Porquets: Extensive selection of Catalan dishes with local and seasonal products.
The different restaurants presented not only stand out for their gastronomic offerings but also for their decor. If you are looking for a very cozy place, Els Tres Porquets, which opened its doors in 2009, is a space that stands out for its family-friendly atmosphere. If you want to organize a tapas plan, this is a reference place in the neighborhood thanks to the quality of its cold and hot dishes. And where is it located? On Rambla del Poblenou, 165.
Bar Calders: Homely and family-friendly atmosphere to enjoy the best tapas and typical Catalan dishes.
It is located at Carrer del Parlament, 25. It is the ideal setting to enjoy a delicious appetizer during your stay. Keep in mind that the establishment has a very cozy terrace that becomes a meeting place for friends and families. It also has a literary atmosphere as it pays tribute to the figure of Pere Calders.
Els Sortidors del Parlament: Perfect for trying different types of tapas, wines, and beers with friends.
If you want to enjoy the ambiance of a charming wine cellar, visit Els Sortidors del Parlament (at Parlament, 53). The place is very cozy, with rustic-inspired decoration that can be seen in many details.
L'Antic Forn: Artisanal pizzas and Italian food in a place with a great selection of wines and a cozy atmosphere.
Discover the beauty of the streets of Barcelona and its restaurants. This one is located very close to Plaza Catalunya. The address of the establishment is Pintor Fortuny, 28. The restaurant's menu offers an excellent selection of cold and hot starters. Similarly, diners can enjoy grilled and stewed meats. It is also worth noting that their homemade pizzas deserve special attention.
Therefore, you can find multiple reasons to plan a trip to Barcelona. Its culture, history, architecture, parks, landscapes, shopping opportunities, traditions, and gastronomic offerings captivate couples, families, and friends. And this list of recommendations can serve as a guide during your stay in the destination.