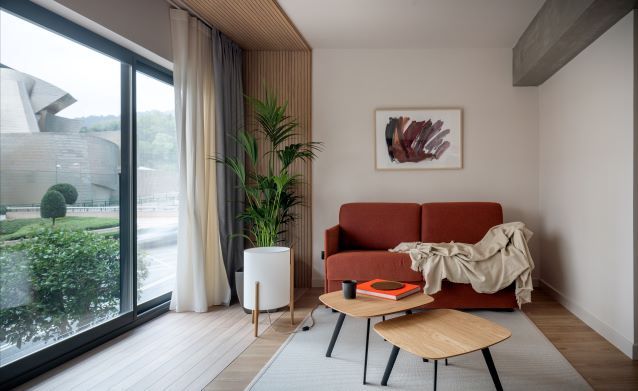 The Formarte artistic training centre and Líbere Bilbao bring art closer to citizens
For its new collaborative project, Formarte has worked together with Líbere Bilbao in the creation of unique pieces to accompany each of the stays in this new destination. Through the participation of 6 of the students of the centre and the help of Cristina and Ana during the process, it has been possible to combine the identity of the brand and the personality of each artist in a total of 21 exclusive works that will be available to Libere's inhabitants.
Whether you arrived here via the QR for your stay or directly from the blog, you have the opportunity to support your favourite piece through the following link and, once the results are collected, Líbere will proceed to acquire and permanently maintain the three most-liked pieces.
Bilbao Formarte
Bilbao Formarte originated in the Basque capital as an initiative for personal and professional development through artistic disciplines for people with functional diversity.
To their professional careers, Cristina Bacete and Ana Urgoiti add a Diploma in Special Education and a Bachelor and Master in research and artistic creation, respectively. The founders have learnt from observing scenarios such as the one in the United States and its "Creative Growth Art Center" in Oakland or the "Schlumpers" in Hamburg, both centres created to offer these people an opportunity to train through art.
As a result of these references, the members did not hesitate to propose this methodology close to home.
Drawing on their experiences, Cristina and Ana contemplate artistic practice as a form of expression that stimulates the artist's research through different materials and techniques. They have also ensured that cognitive and motor processes have never been a barrier in developing this discipline, but rather, in many cases, the possibility of progressing towards new sensitivities. And they have been putting this philosophy into practice and leading their project in this way since 2013.
The art centre in Bilbao
Bilbao Formarte is based on a programme that combines aspects of personal and professional training, employment, and the enhancement of each artist's talent and capacities and the arts and culture as a means of personal and social development.
Located at Alameda Recalde 23 in the centre of Bilbao, the project offers a range of training courses valued, year after year, by more and more people who can achieve their personal and professional goals.
As an annual programme, Bilbao Formarte offers a professional art studio environment for more than 50 students in groups of up to 15 people. In this space, they can experiment with different techniques such as drawing, painting or sculpture on supports ranging from textiles to prints. Both founders are committed to enriching this experience through visits to museums and galleries, inspiring artists to execute their own artistic projects. During July, students can experience the thrill of discovering their creative potential through intensive courses. A month of individualised work, where the most established artists will be able to explore art as a vocation with the possibility of making the transition to the fine arts programme for adults at the same centre. A unique opportunity for them to increase their self-esteem and acquire new personal autonomy.
The work presented by the Formarte artists has aroused interest in many of Bilbao's shops and artistic spaces. The Centro Cívico de San Francisco and the Café Iruña have hosted two exhibitions of the artists' works, as well as participating in a performance where the artists painted aprons for immediate use by the bar waiters! The students have also participated in an engraving workshop at Galería La Taller and a silk workshop taught by Carmen Bacigalupe.
If you have not had the chance to explore any of the centre's events mentioned above, Formarte has permanently allocated a small space next to the studio where members of the public can learn about the artists first hand and also acquire their works. And if you have not yet decided to visit Bilbao, take a look at their website. They will surprise you!