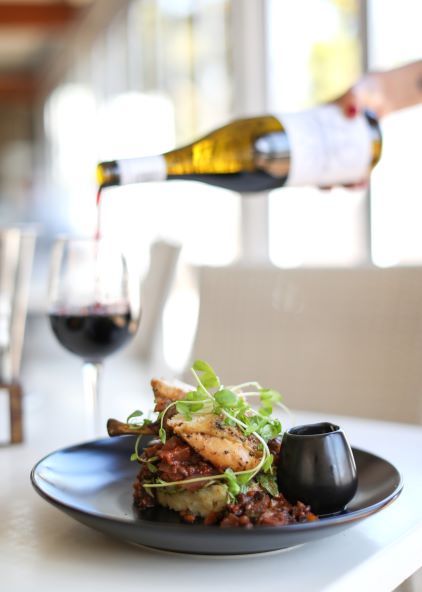 Where to eat in Bilbao: a gastronomic guide to the Basque city
Bilbao is one of the Basque cuisine's greatest exponents, with multiple options to eat well and at reasonable prices. We tell you the best places to go depending on your plan: if you want to opt for pintxos, a menu, indulge in a good steak or even sample exotic food. Why not?
Where to eat pintxos in Bilbao
Plaza Nueva is one of the benchmarks for eating the best pintxos in Bilbao. As well as the vibrant atmosphere, delicious bite-sized morsels await you at every step. Among the most famous is the Gure Toki, which surprises customers with elaborate creations such as its goose egg or its pastrami sandwich. Following the route through this square, the Café Bar Bilbao offers traditional proposals that never go out of fashion, such as cod al pil pil, chistorra or stuffed omelette. There are many others in this area, but we must not forget to highlight Bar Charly, with a very varied menu offering everything from croquettes of the most diverse flavours to Manchego cheese or cod pintxos. Just a five-minute walk takes us to Calle Jardines, where the Berton, specialising in squid and sirloin, is highly recommended. There are others too many to highlight, but how can we fail to mention Con B de Bilbao to end this short tour. It is located on Calle Santa María, a couple more minutes into our walk, where the meticulous presentation of the pintxos invites you to sample. Fish, shellfish, eggs and meat, everything has its place on the bar, always presented in the most inventive and colourful forms.
Where to eat well and cheaply in Bilbao
For those who are going to spend several days here, there will be time for everything. After a tiring day when you want to eat well and at a reasonable price, the Pentxo Restaurant, in the heart of the old town, is highly recommended. Its dining room is decorated in a traditional, cosy way, and the menu offers more than ten first and second choices to choose from, as well as a variety of desserts. Another exciting proposal is Labocatorio, in General Concha 16, where they specialise in Greek cuisine and sandwiches, hamburgers, and empanadas. If you love the classics, at Jam Toki Jamonería, in Plaza Nueva, you can indulge in the best hams, cheeses and sausages.
Charming restaurants in Bilbao
The first suggestion is an unusual place! They do wonders with traditional products: bread, cheese, beer, wines, and many other things are what La Manducateca offers, in Alameda de Urquijo, 35. Another proposal that is out of the ordinary is Kimtchu, in Henao, 17. This bar-restaurant is defined as Basque-Asian, a rare fusion resulting in delicious dishes.
Where to eat a good steak in Bilbao
If you visit Bilbao, you cannot leave without trying a good steak, one of the wonders that this region does like no other. Goizeko Izarra, in Alameda Gregorio de la Revilla, 9, is one of those typical Basque restaurants specialising in meat. Txakoli Simón, on Camino San Roque, 89, is another traditional venue that never disappoints. Another interesting option is the Asador Indusi, on Calle Maestro García Rivero, 7.
Where to eat in Bilbao near the Guggenheim
The Guggenheim has become one of Bilbao's nerve centres, where you will find many superb restaurants astonishing for their high quality and fresh produce. The Seafood Restaurant Mazarredo or the Porrue stand out for specialising in fish and seafood. If it is one of the days when tapas is enough for you, the Abandoibarra Bar has a good variety and attractive presentations. And if you want to treat yourself, there are renowned restaurants in the museum itself that will leave you speechless.
Accommodation in Bilbao
Finding accommodation is not always an easy task, so opting for tourist apartments in Bilbao is an excellent solution, allowing you to move freely and return every night to a space that you can make your own and feel at home. If that is your philosophy, you must not miss Líbere, which presents a new tourist apartment concept in Bilbao. To feel comfortable, connected and with everything you need at your fingertips.